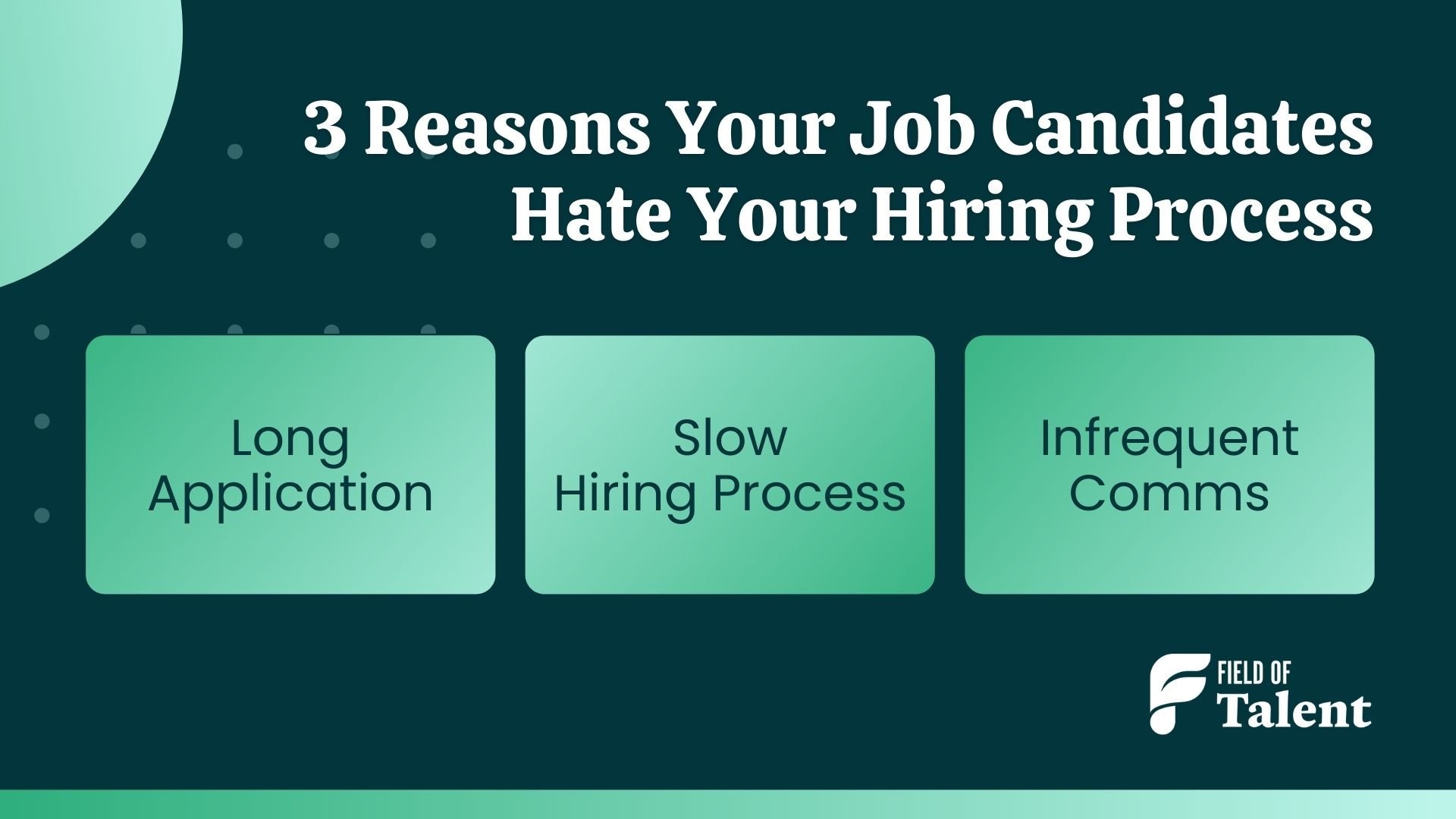 30% of job seekers today are willing to post negatively on social media after a bad candidate experience with a company (BlueArrow). In a competitive market, it's critical that your talent acquisition process is enjoyable for your job candidates. Sure, because you don't want them bad-mouthing your employer brand online. But also because you want the best talent possible.
Your hiring manager is in charge of every detail – large and small – and tracks the recruiting process from the job application to the final offer to the candidate's first day. It's helpful to know where job seekers pay special attention:
Job application process
Hiring process
Communication
Below, you'll learn how to optimize for a positive candidate experience and improve your employer brand as a byproduct.
1. Your application is too long
Before we go down a rabbit hole, application length depends entirely on your organization's preferences. The more you share and request of your job seekers during the application, the higher drop rate you'll see. On the other hand, if you share too little information, you'll receive a ton of applications from unqualified candidates.
Your application process should disclose lots of information about your organization. But not at the detriment of your candidate experience.
As many as 60% of job seekers will exit an online application if it's too long or complex, SHRM claims. While half of employers still think a long job application is worth it to "weed out" the uninterested or unengaged candidates.
So, how should you proceed to provide a good candidate experience for your job seekers and potential top draft picks?
Optimizing your job description
It all starts with your job description. Send your job seekers the right signal by accurately explaining the open position. This includes making your position visible and accessible on a career site or your website. Optimizing your post for SEO is important but not at the peril of clarity. Be sure to check all the boxes your job seekers need to comprehend the position, its requirements and its duties. Here's a quick list of things you should include in your job description and posting:
The audience and the why – "why this is a great opportunity for someone who …"
Benefits and perks
Top 3 things that someone needs to accomplish to succeed
Other important things the right person will do
Problems they will solve
Necessary tools and tech
Experience level and core requirements – not too many though
How success will be measured
Hiring process and milestones
For those who want more information, give them the opportunity to read, watch and learn more about your organization and the position. If not, make it easy for them to apply.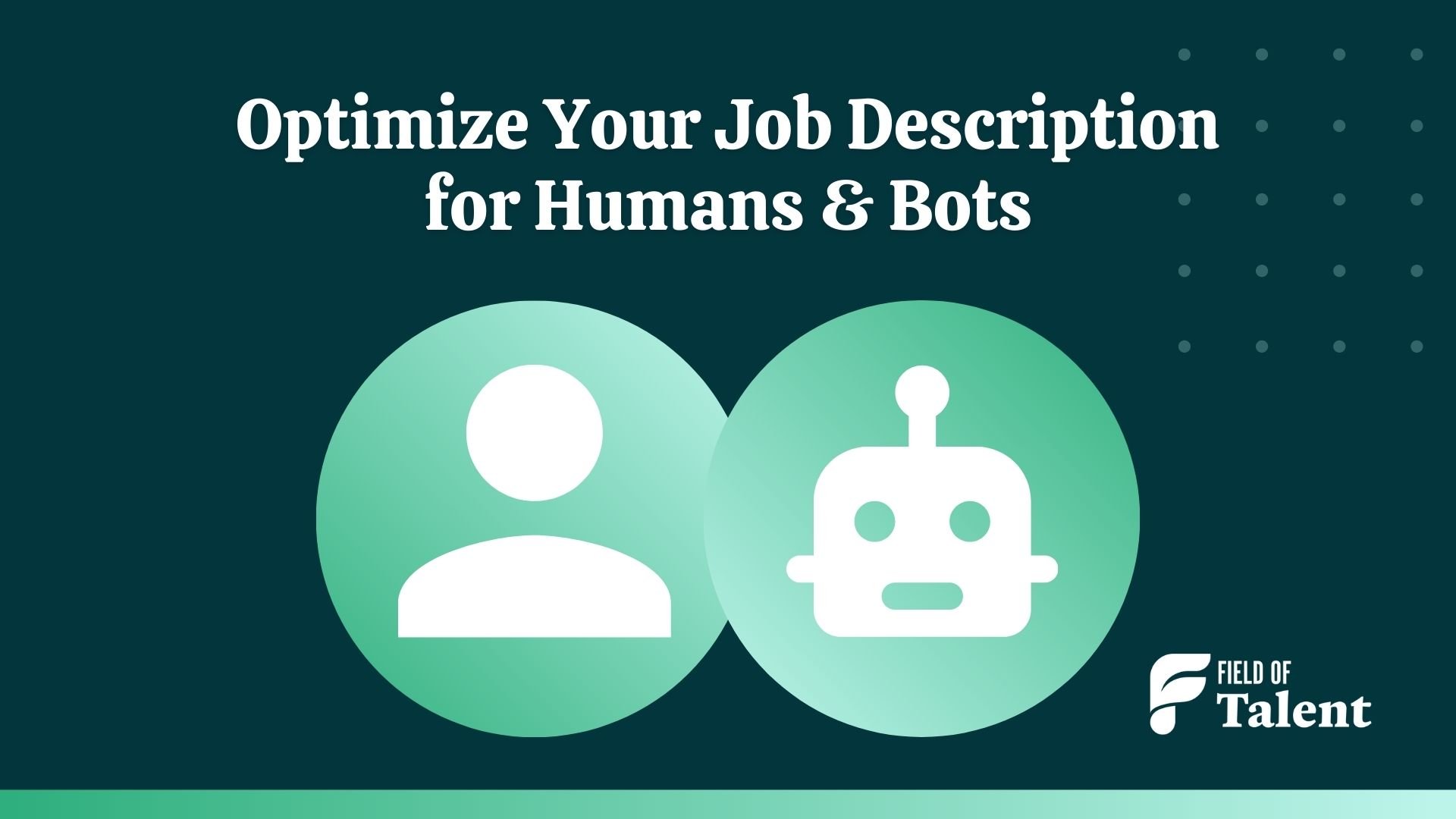 Improving your application process
Again, your job application can be either a wide open funnel that catches any and all job seekers or you can use it to weed out potential unqualified candidates. Or, a combination of both. It's best to strike a balance. But remember, we're in no way living in a time of talent surplus.
Make your job title common and SEO-friendly. Although you may be looking for a "jack-of-all-trades" or "marketing ninja," save those titles for after you hire your top candidate. Because without a common title, your dream candidates won't be able to find your posting – no matter if it's on your career site or a board.
Additionally, don't make your requirements too outlandish so as to disqualify a majority of job seekers. Sure, you can be picky about the individual you want in your organization. But you never know which special skills, personality traits or experience you disqualify when you require a PhD in Microbiology for an entry level position. Use your hiring process to disqualify those who don't have what you need.
2. Your hiring process is too slow
Similar to your job application, the length of your hiring process (and recruiting process in general) depends on your organization's strategy. You need a balance of 1) obtaining accurate, thorough information about a candidate before offering them a position and 2) hiring them quickly so you get the best talent.
Your competition gets top talent before you
A slow hiring process has dire consequences – far more devastating than many organizations think. Yes, a hiring process a few rounds too long is an efficient use of everyone's time – both yours and your job seekers'. Not only do you not get the talent you want, need and deserve. But also, they may pursue careers in your same field and land at your competitors.
Long, winding interviews can fuel a bad candidate experience and cause your top draft picks to drop out of the process – or worse, accept an offer with your competitors.
Speeding up your hiring process
Ideally, the faster you hire, the more top draft picks you'll get on your roster. Does a fast hiring process seem like a pipedream to you and your recruiters? It doesn't have to be.
Peter Drucker said, "What gets measured gets managed." Without the right recruiting tech in your stack, it's difficult to analyze and improve your recruiting process. Candidate experience metrics that you can and should track are:
Top-of-funnel candidates
Job application length
Time-to-hire
Time from application to engagement
Drop-off rate
Retention
How can you speed up your process? Leverage recruiting tech. Applicant tracking systems are an effective tool to ensure your hiring manager is organized and tracking the right information. Plus, reach and screen candidates faster by using SMS text messaging throughout your hiring process. We've used PivotCX to reach our candidates faster and more efficiently.
The average hiring process in the United States is about 24 days (Glassdoor). If you can shave a few days or even a week by leveraging recruiting tech or other strategies, you position yourself to beat your competition and hire the best talent on the market.
3. Your communication is infrequent & unclear
What makes a positive candidate experience? For starters, effectively communicating your position, employer brand and recruiting process to job seekers.
When a recruiting process goes awry and top talent has a bad candidate experience, communication is often to blame. Examples include an employer incorrectly communicating position requirements, not following through on the timeline and milestones, or flat-out ghosting a candidate.
To improve your candidate experience and attract top draft picks, communicate clearly and consistently with modern job seekers during your recruiting process.
Timing & clarity of messaging
At the onset of your hiring process, clearly articulate your position's requirements, timeline and milestones. From the beginning, candidates should know how long the process will take and what's required of them throughout.
Whether automated or personal, one-to-one messages, frequent touchpoints are a great way to inform and stay in touch with top talent. They should never feel "in the dark" about next steps or requirements.
Outdated communication technology
How should you communicate with your candidates? Easy. How do you communicate with your friends and colleagues? Make it easy for everyone involved making your recruiting touchpoints accessible, legible and concise. We recommend the two following mediums:
Not only is modern recruiting tech faster than traditional mediums like email. They're more personal. How do you stand out from your competition during the recruiting process? By making your candidates feel welcome, included and cared for. In fact, Forbes found that 96% of employees value empathy in their employer.
Apart from using modern recruiting tech to connect and nurture your best job seekers, you can further improve the recruiting process by adding feedback loops to your hiring process. Many applicant tracking systems already have candidate experience survey features, but you can also create your own one-off process and automate feedback from candidates. Take constructive criticism into consideration to provide an even more positive candidate experience in the future.
Crafting a good candidate experience in your recruiting process requires patience and a long-term vision. Hiring managers can tweak with more candidate experience metrics and feedback at their disposal. But it also starts at the very top. Talent acquisition should be ingrained in your overall business strategy.
Without top talent on your roster, your organization won't grow as quickly and efficiently. By optimizing and shortening your application, speeding up your hiring process, and communicating clearly with your job candidates, you're set up for success.
Field of Talent helps employers like you transform their talent acquisition strategy for the modern age by leveraging technology, reducing time-to-hire – usually by at least 3x –, and getting organizations their top draft picks more affordably. Schedule a free consultation with the recruiting process experts here.