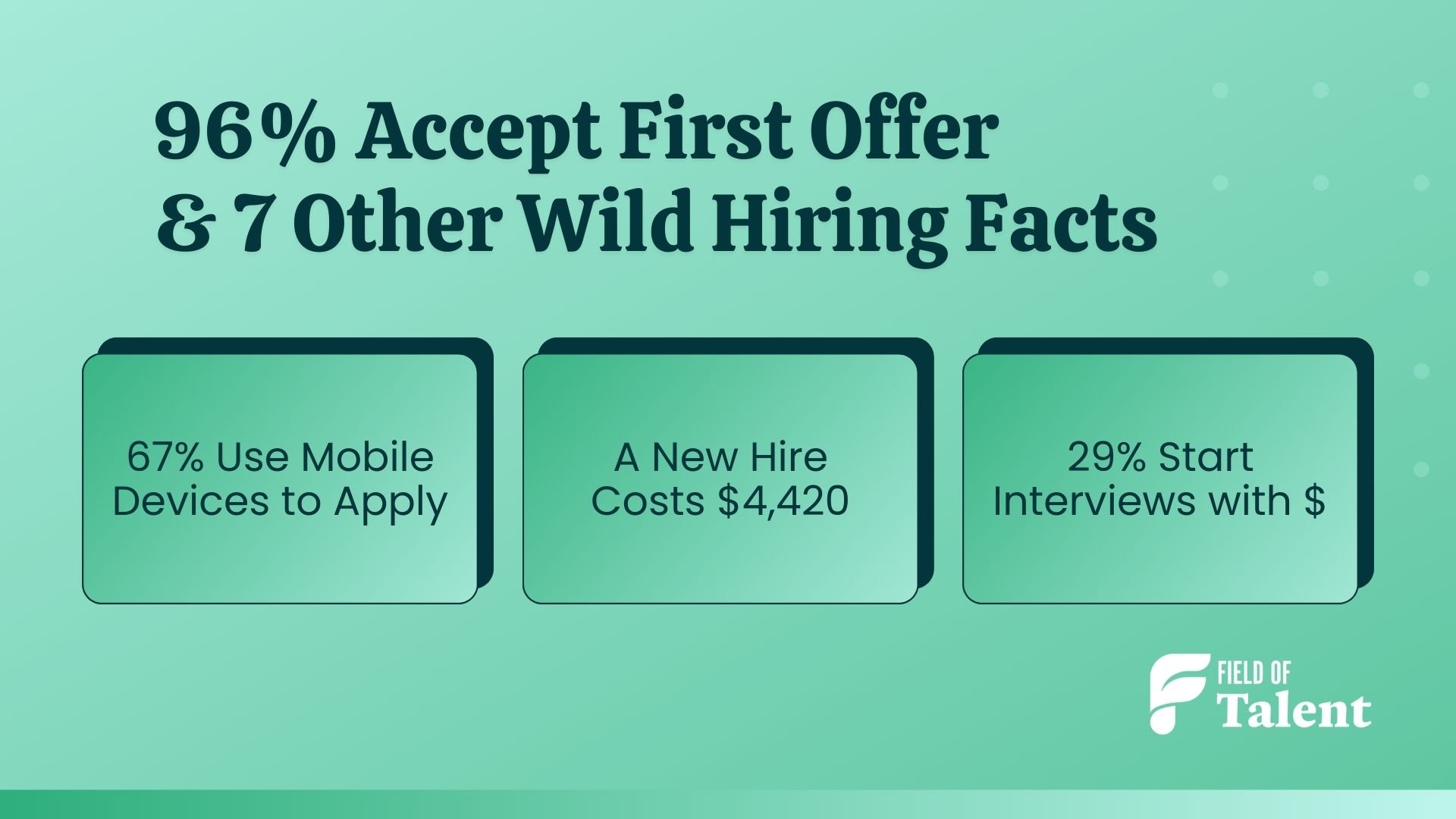 Your organization has likely found you must adapt rapidly in order to meet the ever-shifting demands of a diverse American workforce. Especially in the hottest job market of the last decade.
An expert on the changing laborforce, Mike Seidle is a serial entrepreneur and software developer with decades of experience in HR tech. Mike is now the Co-Founder and CTO of PivotCX, a job candidate engagement tool.
We sat down with Mike to discover the craziest changes in modern hiring and how organizations like yours can adapt.
1. 96% of job candidates accept their first offer
American digital natives expect speed in every facet of life. Same is true in the hiring process. No matter the status of the current job market, candidates typically accept their first offer.
How does this impact your team? Speeding up your recruitment and hiring processes is imperative to getting the top draft picks you need. Field of Talent helps companies do just that. Whether it's improving time-to-hire or screening more candidates faster, we've got you covered. Get a free consultation here.
2. 45% of employers can't find workers with their needed skillset
Partially driven by the current state of the job market, employers are having difficulty finding workers that fit their needs and positions.
Job descriptions continue to be a critical element of the recruitment process. Clarity around who, what, and how you hire helps you and all your candidates. When job postings are too verbose or unclear, top talent doesn't apply.
Promoting open positions is challenging as well. Job boards, your careers page, paid ads. Your recruiters have options. When exploring where and how to promote, ensure you're reaching the target market you want for the job.
3. 67% use mobile devices to apply
With digital natives consuming today's workforce, it's more important than ever that recruitment teams modernize.
PivotCX enables recruitment teams to meet their candidates where they are – quickly. Did you know SMS text messages have a 98% open rate versus email's 20%? Plus, 95% of recipients respond in less 3 minutes (FinancesOnline).
Faster candidate responses mean faster recruitment decisions. With a decreased time-to-hire, you'll get the top candidates you want.
4. 62% of job candidates don't research before interviewing
An astounding number of job candidates today are applying to jobs without doing any research on the employer or position. And, almost ⅔ are showing up to interviews still having little to no knowledge.
Make it easy for your candidates to learn more about your company by explaining your mission, values, and goals in the job description. You may even consider a video to show your company culture rather than simply telling it. Filter out candidates who don't align with your brand and connect more with the top talent who does.
5. Only 27% of companies share salaries or ranges
Pay transparency is becoming more ubiquitous. Or so we thought. With only 27% of American employers sharing salaries, wages, or salary ranges in their job descriptions, we have a ways to go.
Pay transparency and pay equity go hand-in-hand. When employers scope out pay before a hire is determined, there's little room for discrimination based on demographics. Be sure to list this in your job description.
Expect this number to rise as pay transparency is normalized.
6. Recruiting a single new hire costs $4,420
Raise your hand if you were surprised by this recruitment cost. Advertising, job board subscriptions, headhunters, lost productivity. There are many costs associated with recruiting a single new hire to your team. And, even more if that hire turns out faulty and you have to part ways.
Rising costs mean more scrutiny. Ensure all your recruitment costs are justified and make your process as efficient as possible – both in time and money. Run an audit to see how long your current process takes and where things could improve. Note that the average hiring process is 36 days. Can you speed it up? Can you make it a better candidate experience? Smoother for top talent?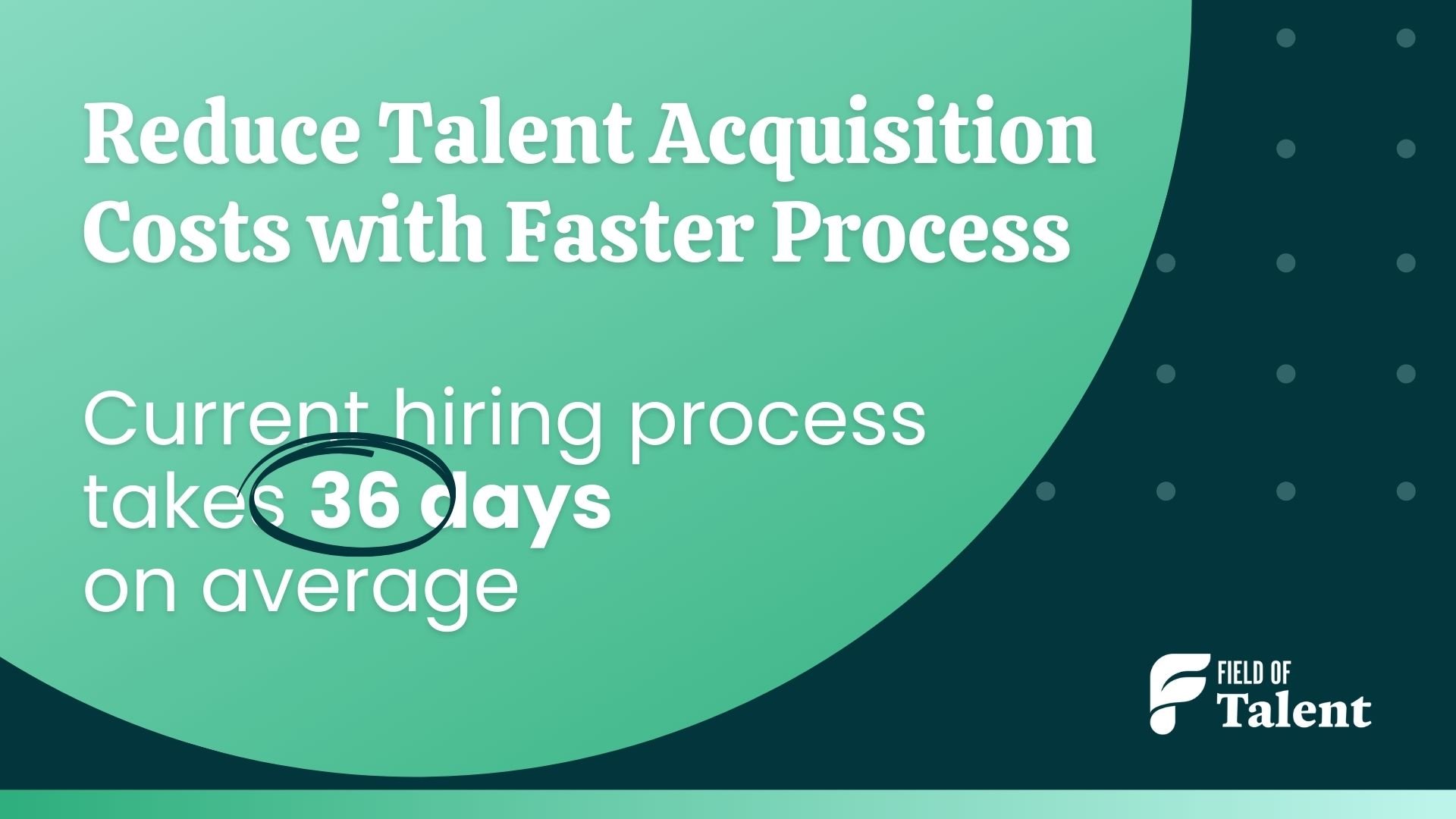 7. 29% of candidates start hiring conversation with money
According to PivotCX's engagement report of over 500,000 data points, almost ⅓ of candidates are quick to bring up salary in conversation with prospective employers. Mike says that candidates should be focusing on their current position's problems and solving for those (e.g. no vacation, no work-life balance, no remote work option, etc.).
Be wary, Mike warned. Although compensation across the board is the best it's ever been, your competitors who pay the most may be forced to pay the most because they struggle to attract top talent. Instead, top candidates will also be looking for the best culture, work-life balance, quality of life fit for them.
8. Recruitment & hiring are still human
As hiring processes have become more digital, so too has communication. Instead of receiving a warm welcome after submitting an application, most candidates wait days and sometimes weeks before hearing from their prospective employers.
"The best way for an organization to engage its candidates is to be human. And human beings say hi in the first few minutes," Mike said. PivotCX equips recruitment teams with SMS capabilities to reach, screen and communicate with their candidates immediately. Realtime candidate experience is the future of recruitment.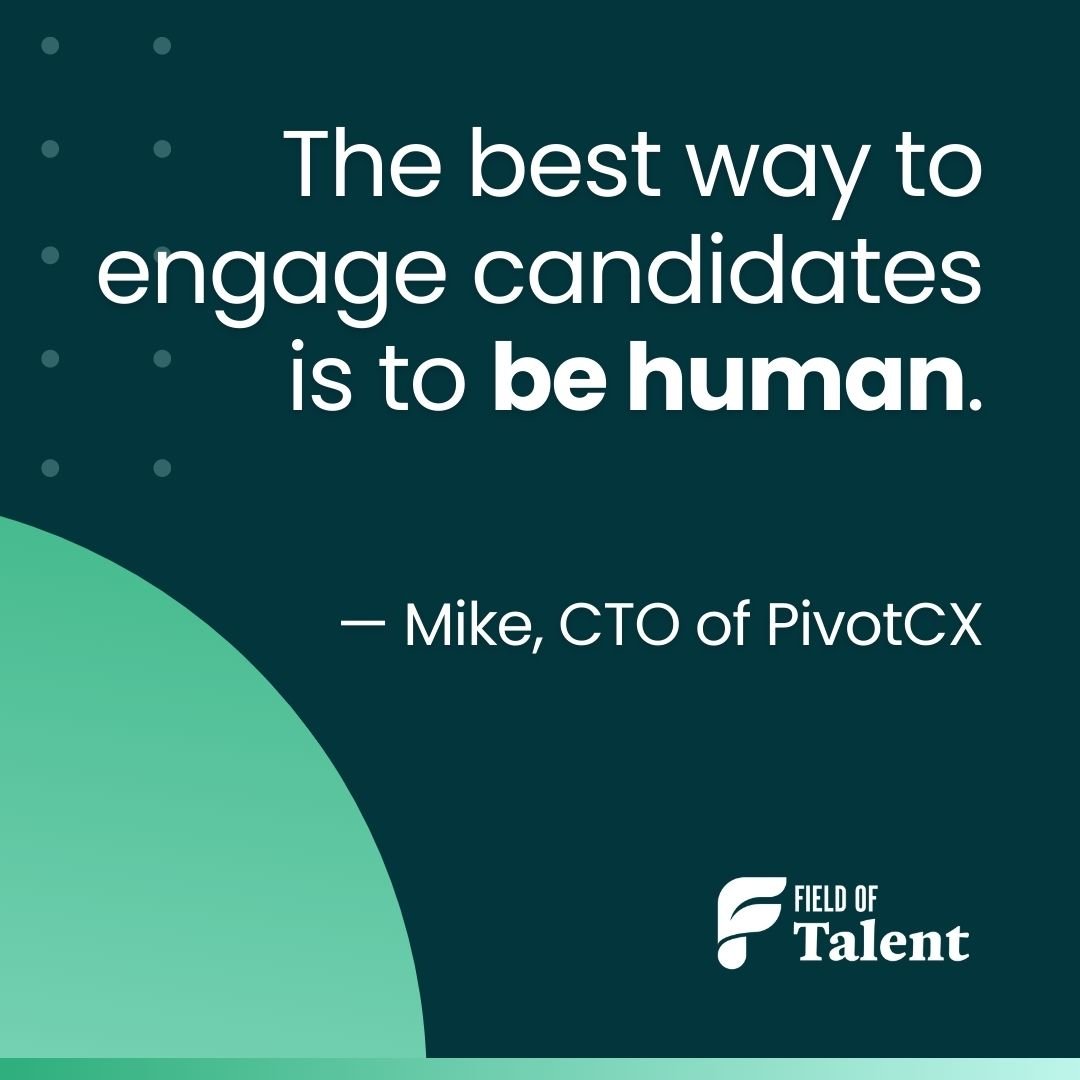 Being human in the hiring process also means that applicant tracking systems (ATS) shouldn't be used to automatically disqualify those who don't fit predetermined metrics. Simply because your candidates don't use a keyword in their cover letter or have a PhD doesn't mean they wouldn't be an excellent addition to your team and culture. Use your ATS to manage your candidates, not filter them.
As the modern hiring process changes rapidly, it helps to have experts by your side guiding your recruitment strategy. In fact, it's your competitive advantage. To partner with the leaders, get your free consultation with Field of Talent here.
If you're interested in a tool to effectively communicate with your candidates, we recommend Mike's PivotCX. Get access to your free demo here.