Sixty percent of job candidates during the Great Resignation are disappointed with their prospective employers' slow, outdated recruitment processes and talent acquisition strategy (Greenhouse). Is your organization guilty?
As Millennials and Generation Z consume more of the labor pool, talent acquisition trends are changing faster every day. If you can meet their recruitment expectations, you can hire top talent faster and easier.
In this article about recruitment trends in 2022, the Field of Talent team breaks down what your top candidates expect from you, your team, and your company's hiring process.
Job candidates want a fast, efficient process
A challenge plaguing the recruitment industry is how to hire Millennials and Gen Zers – the most diverse generations our nation has seen (NPR). And, they now make up almost half of the workforce (Purdue Global).
What matters to one job candidate might not matter at all to another. Salary, social impact, internal culture, benefits and perks, career advancement, and environmental justice. One of the many solutions is to create a faster, more efficient recruitment process to attract and retain our youngest generations.
Your job application should not require a thesis and hours of your recruits' time. If it does, you're reducing your own candidate flow. More than 70% of job candidates in 2021 said they wouldn't even bother with a job application if it required more than 15 minutes of their time (Greenhouse).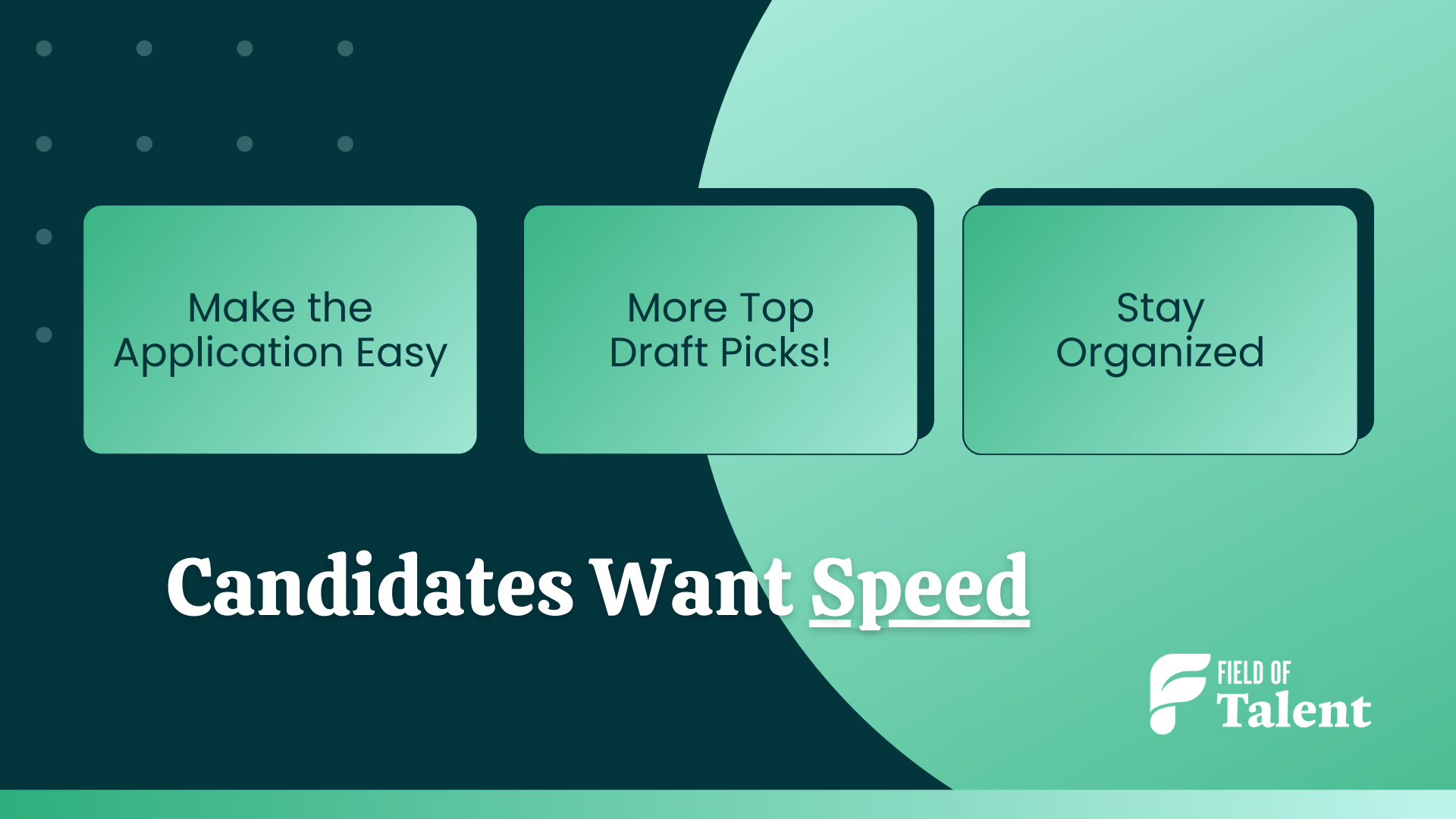 Make the application easy
Beyond your application, your hiring process shouldn't be a burden on candidates. Be flexible. If you're open to remote work, show it! Short, virtual interviews and panels are a great way to efficiently screen many candidates – and likely your candidates' preference. In-person interviews require another level of commitment.
And then, you can be more flexible with times. A gift to your candidates especially when they're employed and can't take time off during the workday.
Struggling with how to attract Millennials and Gen Zers to your company? Start with making your application easier. Then, speed up your hiring process.
Faster time-to-hire means more top draft picks
Time (to hire) is of the essence, especially in 2022 and regardless of the generational makeup of your candidate pool. As technology has taken over our lives, so too has a different relationship with time. The youngest generations in our workforce now expect processes to take far less time – whether they really do or not.
If you speed up your process, you'll have quicker access to your top draft picks before their other suitors engage with them or make offers. Giving you a leg up on your competition. And we know, those who make the offer first usually land the talent first.
Stay organized
While your recruitment speeds up, it's easy to fall behind and get disorganized. In fact, with a faster hiring process, you will need to get more organized. Excel or Google Sheets may have worked in the past, but they likely won't cut it.
Applicant tracking systems and recruitment CRMs are effective tools in making sure nothing slips through the cracks and you're always a step ahead. Personally, we use Loxo and have been able to automate, measure, and improve our recruitment processes over time with a powerful suite of features. Keep your eyes peeled for another Field of Talent resource on recommended systems soon.
Lesson learned. A faster, more efficient recruitment process will set you up for success in your recruitment of Millennials as they become 75% of the global workforce by 2025 (Purdue Global).
Job candidates want better communication
As the hiring market heats up, communication will be another recruitment challenge in your organization. With a faster process, your communication needs to be better – more frequent, clear, and transparent.
Frequency, clarity, & transparency
You have far more access to technology than you did even 5, 10 years ago. And for this reason, you're able to communicate far better with your job candidates. Because Millennials and Gen Z job candidates expect a more personal, visible recruitment process, use your platforms, software, tech, and tools to communicate more with candidates who demand it.
No ghosting
Treat your candidates as you want to be treated. If you're enjoying a recruit's presence, skills and experience, you wouldn't want them to "ghost" you – meaning that they suddenly stop all communications without any explanation. In return, do not do the same with them.
According to the annual Greenhouse candidate experience report in 2022, a whopping 75% of job candidates have been ghosted by employers (Greenhouse). Stand out from your competition by communicating frequently, clearly, and transparently with your recruits.
Candidates understand that a process has a lot of moving parts and that at times, communication can be slow. They'll empathize with you. But, you must always remember to cut ties amicably if a candidate isn't the right fit for your organization at that time. Who knows, they may become a top draft pick in a few months or years.
Meet them where they are
Just as the candidate pool has changed, so have their communication preferences. It's time to venture into SMS and texting as an efficient, fast, and even preferred method of reaching your job candidates.
Let's face it – why in 2022 are we reaching out to Millennials and Gen Z recruits via email when we know they'd choose the more immediate medium of text? Is it not corporate enough? 80% of organizations would say otherwise: 4 of 5 American companies will start messaging their customers by 2025 (Gartner).
With a 98% text open rate versus email's average rate of 20%, you're sure to get far faster responses (95% respond in just 3 minutes!) from your top draft picks (FinancesOnline). And, maybe even impress them with your use of a new technology.
Job candidates want a glimpse of the position
Accurately explaining your culture, benefits, and perks to your recruits should be at the top of your list. Why? Because it's top of mind for your candidates.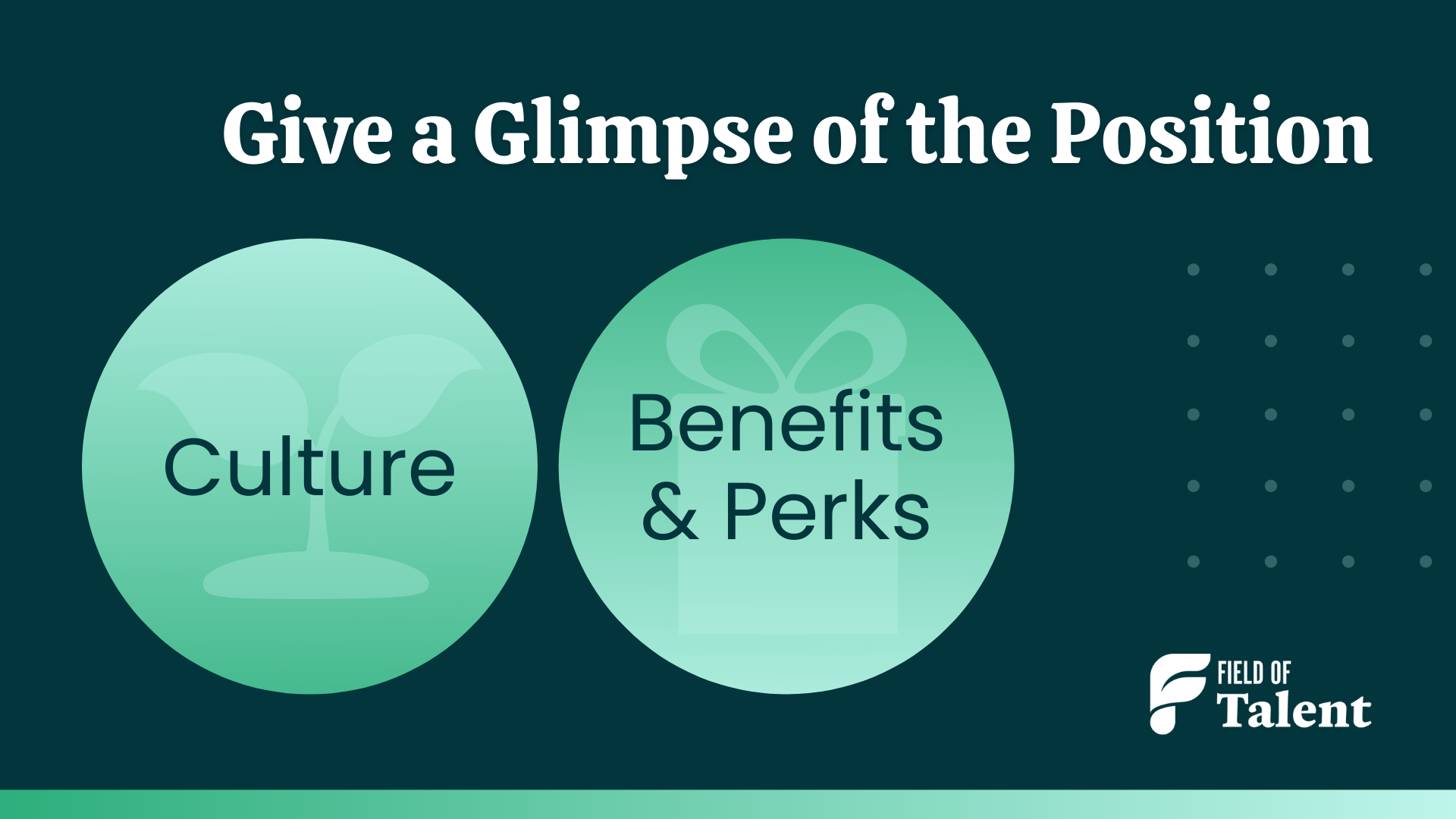 Process should reflect culture
Before committing to anything, job candidates like to see how their unique personality fits with your company culture. Are you buttoned-up? Are you loose and relaxed? Do you have a more rigid hierarchy or is your organization more horizontal? Today's modern recruits want a glimpse of that during the recruitment process.
Your candidates carefully analyze everything you do and say. It's just important for you to tell them about your culture as it is to show them. Sure, be calculated. But also, be who you are. This is your chance to disqualify those who don't fit your culture too. You want your top talent to say, "Oh, I LOVE this dynamic. I can see myself within this team."
Ensure you show-and-tell these elements of your workplace culture during recruitment:
Mission and values
Employee experience
Meaning and impact
Leadership
Teamwork and recognition
Benefits & perks
Your candidates need to know during your recruitment process what and how they'll be compensated in your open position. Not just in salary but benefits and perks too.
Apart from your organization being transparent about compensation, modern society's talent wants to know that you care about what they care about: Well-being in and out of the workplace. In fact, a recent Gallup poll revealed well-being, ethics, and DEI&B are the three most important elements to Millennials' and Gen Z's employee experience. Not compensation like most would assume.
Does your organization care about its employees' well-being? Show it. Today's top talent thinks you should put your money where your mouth is and offer tangible benefits to help employees balance the demands of modern life. Hence, the increased conversation around mental health during the pandemic and remote or hybrid work that allows employees more flexibility.
Specific benefits that attract Millennials, Gen Zers and top draft picks are:
Remote work or work-from-home flexibility
Wellness and well-being programs
Professional development or education assistance programs (Monroe Consulting)
Before making any hiring decisions, spelling out how your candidates will blend into in your unique culture is crucial. Yes, you need to get the best talent on your team. But if that talent has conflicting values, they may not last long within your company.
As society continually changes, so does the field of top candidates. You don't necessarily have to update your recruitment strategy every six months to meet the demands of the ever-shifting job market. But keep a close eye on what top candidates expect from you. Creating a faster, more communicative, transparent recruitment process is a great start.
If you want to attract and retain top draft picks faster and more affordably than your competition, reach out to the Field of Talent team. We've helped organizations reduce their recruitment costs, screen 2,400% more candidates (seriously! Ask us how!), and hire top talent 3x faster.