The recruitment and hiring processes can be confusing, time-consuming and resource-sucking. But it doesn't have to be. That's why recruitment software exists! To save you time and money throughout your search for your organization's next top talent.
With over a century of recruiting and hiring experience in industries across the map, the Field of Talent team shares their all-time favorite tools to help recruiters get more done – faster. From scheduling and outreach to candidate communication, below are the recruitment tech, tools and advice to save you time and money in your hiring process.
Recruitment & initial outreach
In the onset of any recruitment process, it's crucial that you have the correct information for your candidates. Especially if you're pursuing a very specific set of skills or people. If you don't have the right data for your outreach, your process is already in danger of being stalled or delayed. As a recruiter, you can't let that happen.
Recruitment software can aid in finding your candidates' information and most importantly, saving you incredible amounts of time weeding through your network or backchannels.
Whether you're searching for email addresses, cell phone numbers, social media profiles or other personal information during the outreach phase of your recruitment process, here are two of our team's favorites: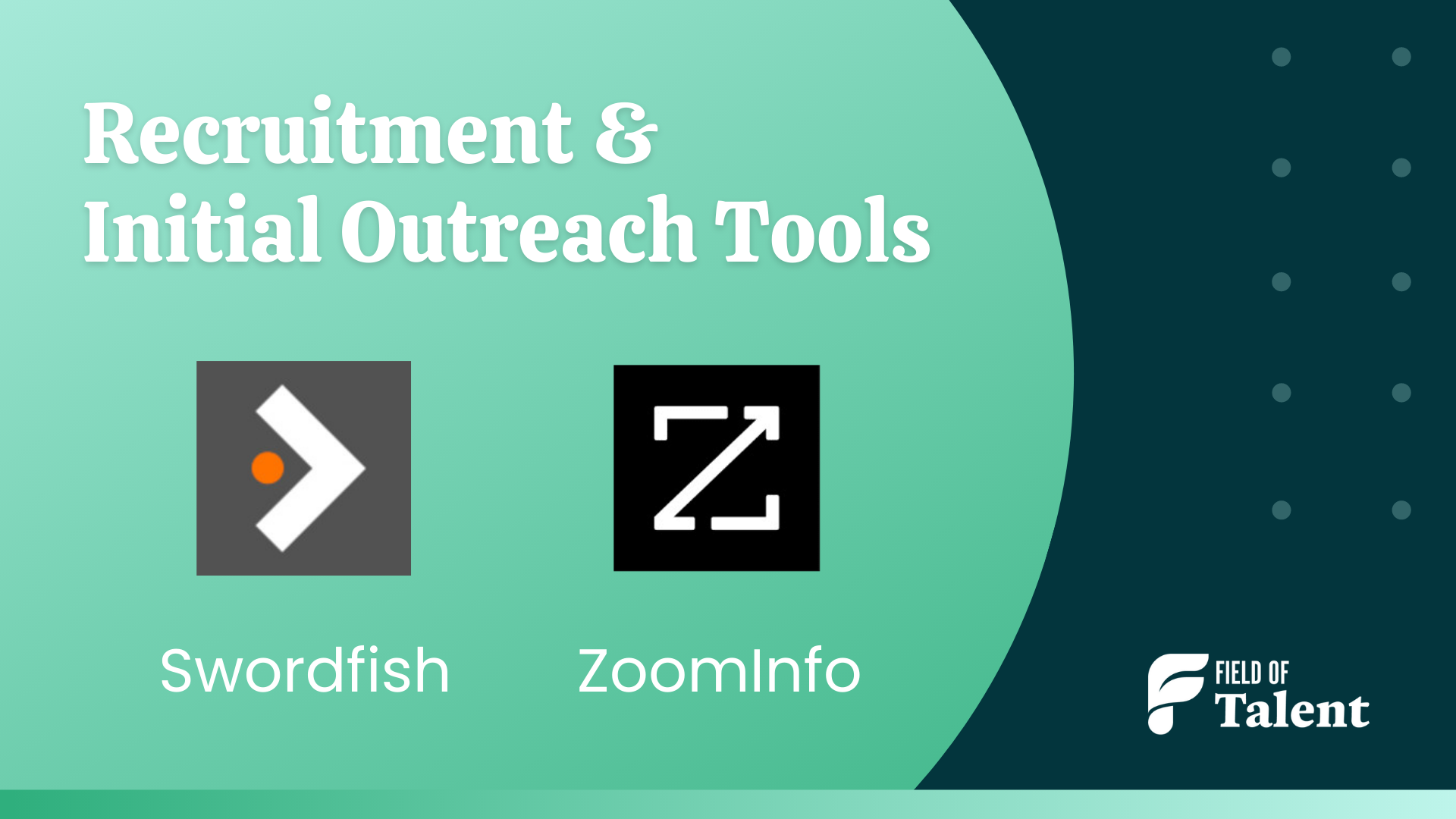 Swordfish
Searching for your candidates' contact information can seem like trying to find a needle in a haystack. Especially after they don't answer on Linkedin or email. Swordfish is a tool that allows you to find any email or phone number you can possibly imagine. Okay, maybe not any information. But pretty darn close.
Swordfish scours more social profiles, including Facebook, Linkedin and Twitter, than other leading contact finders. Giving them the upper hand when it comes to getting the direct contact info you seek for your candidates.
And because time is always of the essence in recruitment, Swordfish even has realtime validation of emails and phone numbers – something most of their competitors don't offer.
If you're looking for a trusty platform that gives you all the features you need to get candidates' contact info, Swordfish has what you need.
ZoomInfo
The granddaddy of 'em all, ZoomInfo is the legacy choice in the outreach space – not just for recruitment but sales and other functions as well. While significantly more expensive than most other options, ZoomInfo has all the tools for finding personal information of your candidates.
Because they have the resources of a $22 billion dollar public company, ZoomInfo has engineered literal operating systems and a slate of products for sales, marketing and recruiting.
Likely at or above your recruitment outreach software budget, ZoomInfo is a great tool if you can get a lot of use out of it. Otherwise, opt for more affordable choices like Swordfish.
Once you've selected an outreach platform to help you find direct information for your candidates, you're ready to contact them. What should that email include? Good question, reader.
Why you've contacted them specifically
The upside – Describe why the opportunity might be a great (next) career move for them
Relevant job details, requirements specific to what they do or have done
Hiring process timeline
Call-to-action – Likely an interview or quick discussion
The latter is most important. Make it easy for your candidates to act on your email if they're interested.
Scheduling candidates
Something we harp on at Field of Talent is making it easy for your job candidates to not only apply, but also navigate your recruitment process. And we will continue to harp on it.
Your outreach emails should contain a direct link or call-to-action to schedule time with you or the hiring manager – whether for a formal interview or informal discussion about the position depending on whether they are an active applicant or a passive candidate you are sourcing. (Absolutely mandatory if interviews are the next step in your recruitment process.)
There are plenty of recruitment softwares that help you get this important step done smoothly. Here are our recommendations:
Calendly
We use Calendly a lot. Whether you're scheduling interviews, one-off meetings, or any other connection, Calendly is our go-to.
Instead of going back and forth over email with candidates or partners, we send a simple Calendly link which includes all of our available times. Then, the invited party schedules a time that also fits their schedule. Like magic!
If you upgrade to a paid version, you can even create different types of events, build automated messages, and take advantage of other time-saving features. Work remotely and often meet with folks across timezones? Not an issue with Calendly. Want to add online conferencing like Zoom, Microsoft Teams, or Google Meet, you can do that too.
This recruitment and scheduling platform is a gift.
Doodle
Have you ever run into the problem of trying to schedule a meeting with multiple people? Unfortunately, that age-old problem still isn't solved by Calendly's scheduling tools.
If you need to schedule multiple people at a single time, Doodle is the software for you. By sending a single link, each individual can indicate their availability. And voilé! Automatically schedule a meeting for a time that fits everyone's calendars.
But you're just scheduling interviews and one-off meetings with individuals? Doodle's features are great, but we recommend you still opt for Calendly.
While recruitment outreach and scheduling is important, it's actually communicating with those candidates that will show your culture, clarify your mission, and get your top draft pick to accept your offer.
Candidate communication
We've learned in our century of recruitment experience that candidate communication is critical to getting the top draft picks and talent your organization needs. By providing consistent, clear and direct communications in the medium the candidate prefers, you can go above and beyond. And guarantee they accept your offer before anyone else's.
Your communication with candidates during the recruitment process signifies to them how your team functions internally. And they're paying particular attention to your voice and tone. If you're modern, caring, and personable, communicate with your candidates like you are!
PivotCX
In the age of personalization, you must adapt your recruitment communication techniques to meet your candidates where they are – online and mobile. That's why we so highly recommend the recruitment texting platform PivotCX.
Did you know SMS has a 98% average global open rate compared to email's 20%? And, 95% of receivers read and respond to texts within three minutes (FinancesOnline). Mind-blowing!
Designed specifically for the next generation of job seekers and digital natives, PivotCX allows recruiters to write, automate, and respond to text messages during the recruitment process. Making communication fast, easy, and native to habits we all have.
Americans check their phones a whopping 96 times a day – once every 10 minutes (Asurion). It's time recruiters adapt and use channels that candidates prefer for receiving and responding to hiring process updates.
By supplementing our recruitment processes with PivotCX and the use of text communication with candidates, we've seen a drastic improvement in speed and huge reduction in time and money spent – including employment costs.
Text has quickly become a legitimate and oft-recommended recruitment technology for employers. No matter your industry, your candidates are likely texting their coworkers, friends and family. Chances are they'd welcome a text from you too. Use PivotCX to meet them where they are and get higher response rates than ever before.
Outreach. Scheduling. Ongoing communication. Recruitment software platforms like the ones Field of Talent recommended above will save you time and money in your hiring process.
Hiring for an individual contributor? Maybe a manager or leader? Hands full with an executive search? The rules and recommendations still apply – no matter your target.
Of course, this list of recruitment tech and tools isn't exhaustive. Stay tuned in the future for updates on recruitment marketing, referrals, CRMs, collaboration, application tracking systems, onboarding and other recruitment and hiring technologies that will save your team resources. From the team that does recruitment more quickly, affordably, with superior CX (candidate and client experiences) than any other.
Need support getting better candidates faster? Send Field of Talent a message and get your free consultation.