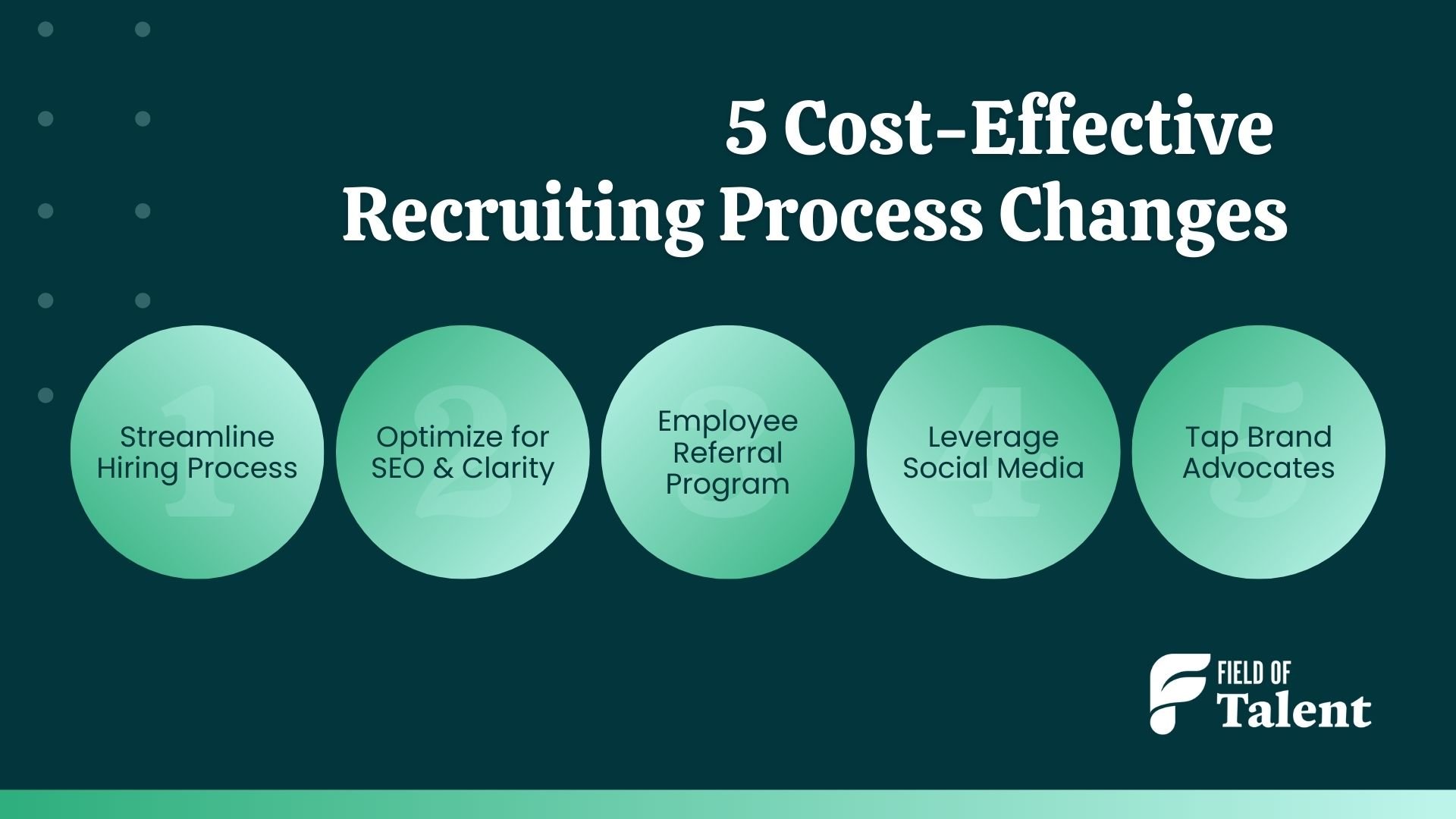 "The average new hire costs how much?!"
"$4,420! Isn't that wild?"
– Your hiring managers (probably)
We get it. Your recruiting budget is strained. And sometimes, you exceed your cost objectives.
The job market is the craziest it's been in a decade. You're wondering where you can cut recruiting costs, set realistic cost objectives, and optimize your recruitment strategy on a budget. Yes, it's possible. And, you can still create a compelling candidate experience and get the top talent you need to grow.
Calculate your recruitment costs
To establish a baseline, estimate costs incurred. What are all the direct and indirect costs associated with your recruitment marketing and hiring processes?
Total hires
The easy part: How many people are you hiring? If you're hiring for many positions at the same time, you'll calculate the cost of your entire campaign and drill recruitment costs down to a per-head price.
Basic recruitment costs
Every recruitment process comes with fixed costs. How do you attract the right candidate to apply for your position? Here are a few examples of recruitment marketing costs:
Job posting: Descriptions on job boards like Indeed or Linkedin
Website development: Positions on your careers page
Advertisement: Targeted audiences on Google or social media
Plus, think of your hiring managers and recruitment team as resources. Their capacity is limited and therefore, expensive. Count salaries and benefits of current employees in this category of fixed recruitment costs.
Recruitment technology costs
Every hiring process is smoother and faster with technology. If you're like 73% of companies (Zippia), you use talent acquisition software to improve your internal processes and candidate experience.
How much does it cost to operate your tech stack?
Assessment or screening tools
Applicant tracking system
SMS or email service provider
Onboarding or training
Recruitment technology costs may be your largest category of costs incurred. It's expensive to run a modern recruitment process. Sure, there are ways to centralize many of these tools to an all-in-one platform. But you don't want to sacrifice quality or efficiency.
You can reduce technology costs by outsource recruiting needs. Field of Talent helps businesses (yes, like yours) fill their roster with top draft picks. Get your free consultation here.
Miscellaneous hiring costs
Your recruitment process will always incur extra costs to meet the modern demands of top candidates. It's difficult to avoid these indirect costs. Are you paying your employees to find your next best employee? Referral bonuses can stack up. You may even be outsourcing your hiring managers and talent acquisition to recruitment agencies.
The world has changed. With the rise of remote work, relocation costs have decreased. In-person interviews and travel costs are significantly down. And digital communication tools have become a prerequisite.
How have the last two years impacted your recruiting budget and cost objectives?
Cost-per-hire
Finally, it's time to calculate your cost-per-hire. Divide your total costs from the following categories by your total number of hires:
Basic recruitment costs
Recruitment technology costs
Miscellaneous hiring costs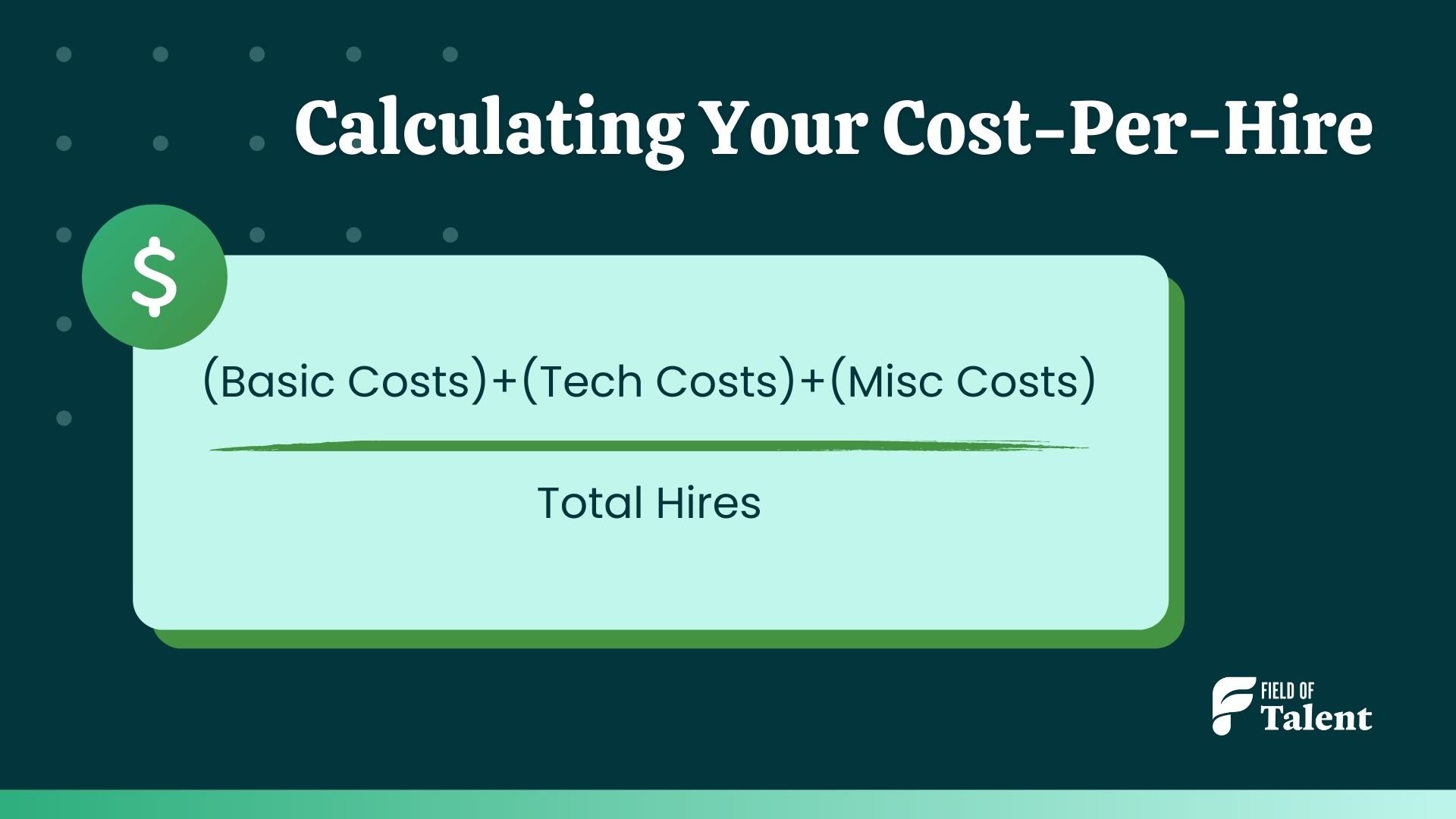 The average cost-per-hire in 2022 is $4,420. How do you stack up? Compare your cost-per-hire within your industry or vertical with StaffingHub's State of Staffing.
Note: In the current state of the job market, it's more expensive to recruit and hire top talent. Competition is high. Expect your recruitment marketing and in turn, your recruiting budget to increase.
5 changes to cut recruiting costs & hit cost objectives
So you know your cost-per-hire. Because the job market has changed, imagine your finance team asking your hiring managers and human resource function to cut recruitment costs and set cost objectives for the upcoming season.
How can you shift your recruitment strategy to meet your organization's talent acquisition and budget needs? While also optimizing for candidate experience and hiring the best talent. Here are five ways:
1. Streamline your hiring process
Yes, we know it's a buzzword. But it's cliché for a reason. Every organization needs a talent acquisition strategy, and your recruitment process and hiring managers should be directly aligned with it.
A streamlined hiring process means you cut the fluff around your recruiting function. Do you really need those recruitment agencies to find top talent? Do you need the premium tier of your applicant tracking system or can you downgrade or even upgrade to a more modern system and save thousands every month?
Analyze your recruiting costs from above and find where your organization can make cuts. Not because you have to, but because you can.
2. Optimize job postings for SEO & clarity
Whether it's on job boards across the internet or on your own careers page, your job posting should be easy to find, clear and accurate. Recruitment marketing is often a top cost. You have to fill your funnel to hire for your open position. But a well-crafted description will target better candidates, shrink your hiring process, and ensure you get who you need faster.
An easy test is to put yourself in your top candidates' shoes. They want a new position. What are they searching on Google or a job board like Indeed? Include those keywords in your job posting but not in spite of clarity. Be clear about who your organization is, what your goals are, what the job title means and what it takes to get hired.
Make your job title common and SEO-friendly. Although you may be looking for a "jack-of-all-trades" or "marketing ninja," save those titles for after you hire your top candidate. Because without a common title, your dream candidates won't be able to find your posting – no matter if it's on your career site or a board.
Here are three reasons your candidate experience is turning away top talent.
3. Employee referral program
Your current employees know your organization better than anyone. Therefore, they know who'd be a great fit for your culture and goals. Incentivize them to do your recruiting for you. When creating your employee referral bonus, AIHR says to keep these key tenets in mind:
Incentives
Ease of use
Feedback
Recognition
With a successful employee referral program, companies can save $3,000 or more with each new hire according to Recruiter.com.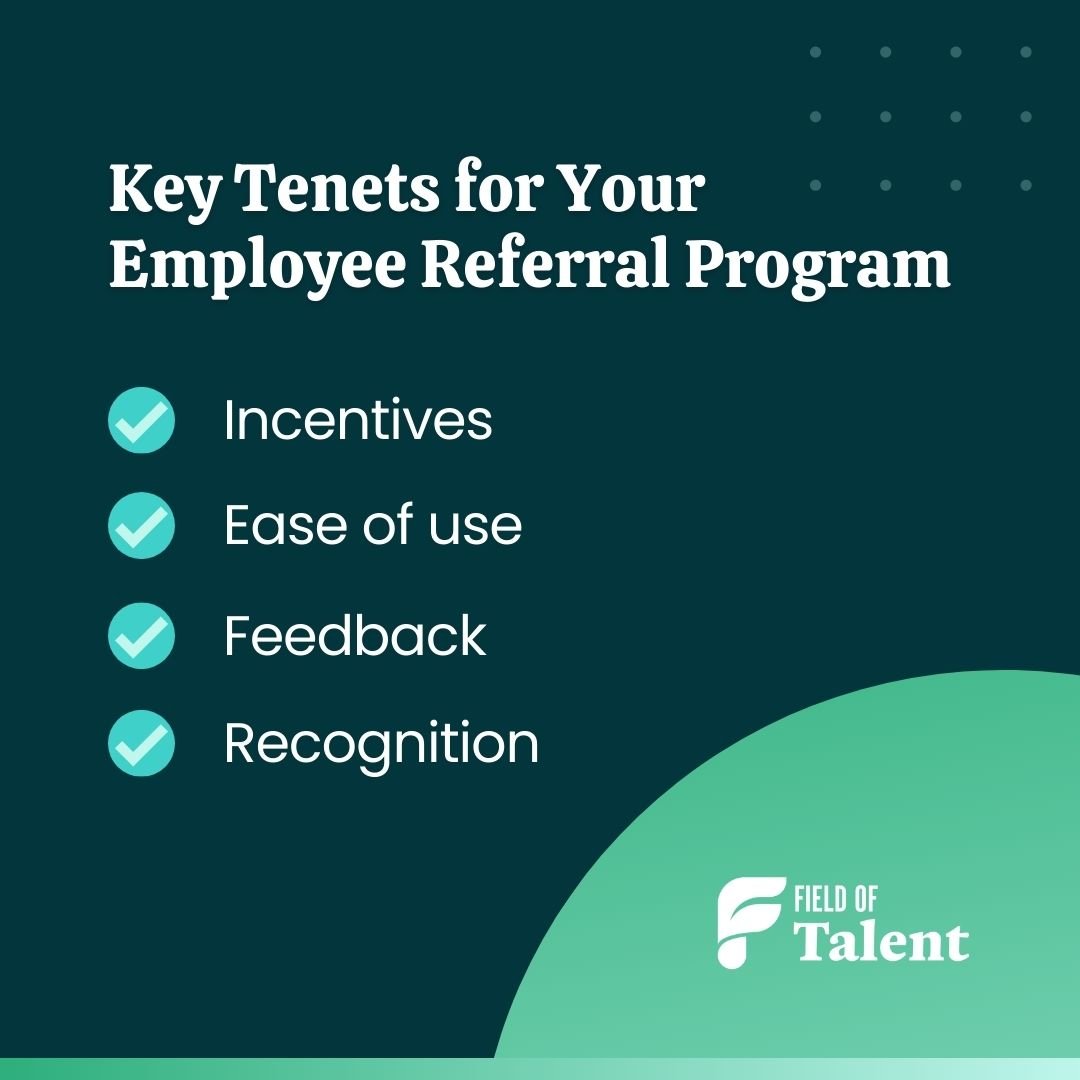 4. Leverage social media
Social media has become an effective channel to showcase company cultures and "a day in the life." Your organization has the power to reach thousands of people in a single keyboard stroke – for free. Why not use social media to reach more qualified people and top candidates?
Most of your employees have social media accounts. Have a new unfilled position? Instead of paying for advertisements, send them a pre-written post and leverage their diverse networks to attract talent from all corners of the internet.
5. Tap your brand ambassadors & advocates
Consider your favorite customers and partners as levers to pull. Often, the stronger workforce you have, the better off they are. They're incentivized to care about who you hire. Ask if they'd be willing to help you get the best talent possible by sharing social posts or job descriptions with their large networks.
Human capital and talent attraction capabilities are critical to your growth, but talent acquisition doesn't have to be one of the most expensive functions of your organization. Even in this job market, you can still cut costs while getting the top talent you need and deserve. Start by defining your recruitment strategy and analyzing costs incurred. What can you shave without sacrificing your candidate experience and quality?
Field of Talent has helped organizations from 50-person startups to 10,000-worker corporations navigate the ever-changing job market, cut recruiting costs, and establish an effective recruiting strategy. Talent acquisition should be an asset, not a liability. Get your free consultation here.